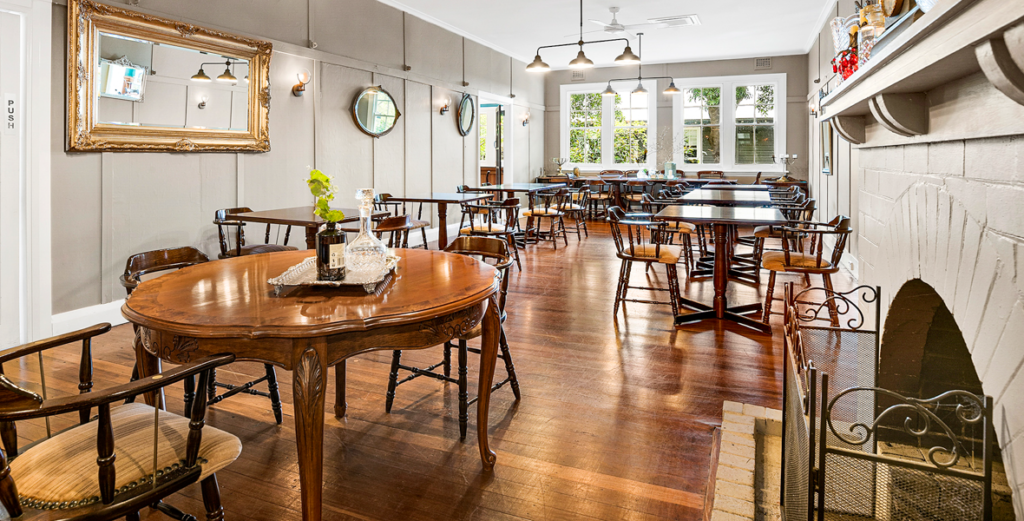 The Dining Room Licenced Restaurant at the Bundanoon Guest House is open to in-house guests and special events, where we offer our In-House Dining menu as well as a selection of Al-la-carte menus for large groups. Please refer to our Dining page for further details.
We operate a fully licenced bar which is located adjacent to our Games Room, Guest Lounge and Dining Room. We offer a substantial Wine List, including a number of local Wineries, as well as a good variety of beers, spirits and soft drinks. One of our all-time favourites is the locally distilled Joadja Gin, which we serve with a Fever Tree Tonic.
There are two Guest Lounges at The Bundanoon Guest House. The "Green Room" features air conditioning and a gas fire, tea and coffee making facilities, large refrigerator and also a large screen TV with free to air TV and Netflix, all for Guest use, and is a real sun trap in the afternoons. We also have another Guest Lounge adjacent to our Dining Room and Licenced Bar, which features period furnishings and collectables. This lounge also features a glorious open fire which guests love to sit by during the cold winter months, and enjoy a glass of red or a gin from our local distillery. Often referred to as the best seats in the house.
In addition to our Guest Lounges, we also have a Games Room, featuring a large Snooker Table, Board Games, Gas Fire and plenty of relaxing seating. Our Games Room is a very popular place with our guests, especially large groups. It also has a large screen TV, with Free to Air and Netflix, the perfect place to watch a great movie, catch up on the news, watch your favourite football team or just sit by the gas fire and enjoy a drink from the Bar
Grab a tome from our well stocked library. There are numerous places of quiet contemplation throughout the house and grounds to immerse yourself in a great story.
Each season brings different delights in the Guest House garden. Enjoy the beautiful gardens any time of year, whether they are bursting with flowers in spring and summer, or raining foliage colour in autumn.
Choose one of the many garden rooms to soak up the fresh air and sunshine (subject to availability).
Further details can be found on our Grounds page.
Conference & Meeting Facilities
Visiting on business? The guest house is well equipped to host your conference or corporate event. Speak to us about your needs and let us organise the facilities to suit.
Please refer to our Conferences page for further details.
Please call us on 02 4883 6372 or complete the conference enquiry form to get the ball rolling.